We had a wonderful fun-filled Thanksgiving weekend. On Thursday we went to my aunt and uncle's house and had lunch with the whole fam damily. It was great to see how much the little ones have grown as well as catch up with cousins.
Amanda and I
Adam and I with the Bi Lo bull :o)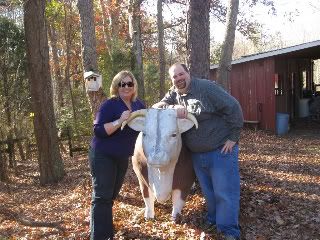 Friday I got up around 8:30 and went shopping just for a few hours. I found a few good deals but was so tired that I called it quits around noon. We got to repeat Thanksgiving at the Brannon's house on Friday night! Saturday was the Clemson vs. USC game which we ALL know how that turned out. It was a great day even though it was rainy and cold!!
Another exciting event - my parents got a new Shih Tzu puppy named Max. He is 3.5 lbs of lovin and so cute and cuddly! He's really going to keep my mom busy!